MicroSociety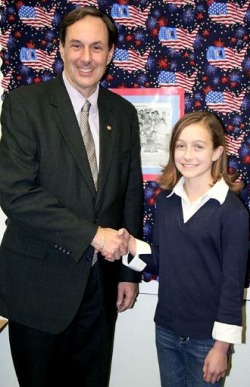 photo by AMY SCHENCK
What is MicroSociety?
The
MicroSociety
is an innovative design where children create a microcosm of the real world inside the school. Each student has a role in running the world. Young entrepreneurs produce goods and services, elect officials and establish laws. Crime Stoppers keep the peace, judges arbitrate disputes, and reporters track down stories. All citizens earn wages in the school's "Micro" currency (Eagle Bucks), invest in product ideas, deposit and borrow money from "Micro" banks, and pay taxes, tuition and rent. Classroom connections are made throughout the day.
"Why do I need to know this?"
It's a question students ask every day. Many children see little connection between their school work and the outside world. And for many students, good grades just don't offer sufficient incentive to succeed. In the
MicroSociety
program, rewards are immediate and tangible. Mastery of basic skills becomes necessary to excel as a lawyer, banker, legislator, or entrepreneur. Social and financial rewards transform students from passive learner to active participants in their own development. Self-esteem improves with a new sense of accomplishment.
The
MicroSociety
program has been adopted by hundreds of schools in 40 states. The program has received national recognition as a comprehensive school reform model. Schools look to
MicroSociety
to help them solve problems with student learning and achievement, motivation, attendance, behavior, and school climate. The
MicroSociety
program also helps students find meaning in school and ignites their sense of purpose and work ethic in order to compete in their chosen profession. They gain an understanding of why work is fulfilling and how it helps them tap into their innate skills and talents and discover their own leadership potential. The
MicroSociety
program helps students find a purpose in their education and prepares them to become active citizens.
Since the inception of the
MicroSociety®
program in 1967 and the launch of the non-profit organization
MicroSociety
in 1991,
MicroSociety
has touched the lives of over 250,000 children. Because
MicroSociety
students create and manage entire miniature societies in real-time in school, it should come as no surprise that kids across the spectrum are captivated by the experience. In a
MicroSociety
program, students experience the pride of producing something of value to themselves and their peers; earn money and learn to be responsible with it; contribute to the community as an artist or director of a non-profit, museum or cultural organization; and aspire to be elected to office. Just like in the real world,
MicroSociety
children grapple with ethical decisions in business and political settings every day. (Should an elected official be able to vote on legislation that will positively impact their business? We've found our children say no!)
---